Ok, so this is my first "The Good, the Bad, and the Ugly" Thursday. Wish me luck :]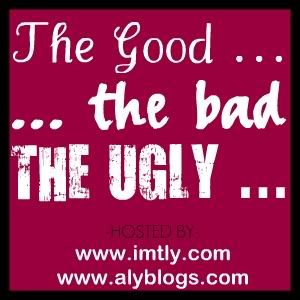 The Good: First Grade Valentine's Party was an adorable success
The Bad: I fed them sugar
The Ugly: I left the room with frosting in my hair and stickers on my back.


The Good: My husband supports my V-Day veto
The Bad: He might be the only one
The Ugly: And now I might almost be falling for the marketing . . . Dang it!


The Good: Tomorrow will be the last day I have to hear the music class's cheesy children's songs about love
The Bad: 95% of the time, kid songs put me in a BAD mod.
The Ugly: I have to look happy and pretend I love it because parents are coming to watch


The Good: Chris brought home a book for me to read about healthier, homeopathic living
The Bad: It's entitled What You Don't Know May Be KILLING YOU! (emphasis NOT added)
The Ugly: I think I'm going to go live in a hole, flee from super market nummies, and never use shampoo, bug spray, or deodorant again.


The Good: Tomorrow is Friday! The weekend is just around the corner!
The Bad: It's also extracurricular day! Super hyper children alert!
The Ugly: At least one--if not all--classes will be Valentine themed. More sugar? Oh my lanta.


The Good: I've started blogging again (Project 31 posts coming up again soon!)
The Bad: I spend more time on the computer now than ever
The Ugly: I haven't felt my thumb or pointer finger tips in over a week. Thank you, carpal tunnel.