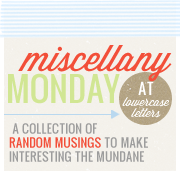 To Do
After tonight, Lord willing, my after-school to-do list will be complete and my cleaning-out-the-apartment-to-get-ready-to-move and planning-middle-school-English-lesson plan lists can begin. Suddenly, that sounds like a lot of work. Hmm . . .
Moving On or Why Apartments Get Old Fast
There is nothing particularly nasty about our apartment. It's been a lovely "just married" nest. But it's time to go.
Having no room for bookshelves, my boxed up books are screaming to be released. And my closet is wailing to have all the book boxes removed. So, you know, I can actually walk to the back of it and really hang my clothes up so they aren't just leaning against box mountains. You may say this is a sign of too many books, and in response I say "There's no such thing as too many books." All that to say, I'm looking forward to bookshelves. And more space. Period.
I also look forward to living without the paranoia that the neighbors hear everything. Including my early morning conversations with the cats. I've stopped singing all together because I don't want to irritate the neighbors. I can't jump around and dance because I might disturb the neighbors. I'm afraid to vacuum because it may be too early or too late for the neighbors. And those are the LEAST of my audio worries. Yikes. No one's complained, that we know of, but still . . . walls are only so thick . . .
Not having to walk across a parking lot and up stairs with tons of groceries.
No pet limitation. Now, before you think that I'm going crazy cat woman, no; our apartment complex has a two furball limitation. Meaning, with our two cats, a pup is just not an option here. There, it will be. And we are so excited. Oh please, Lord, let it be a good dog and not a furry case of chaos. Please please PLEEEEEEEEAAAAAASE.
Having a yard with flowers and a private dirt road for walking/running will be splendid. Here, if I run, it's in a tiny gym that may or may not be open or the single treadmill or elliptical occupied. Plant-wise? We have a potted bamboo plant that also serves as a cat chew toy. We wish it didn't.
But my First Grade classroom parents just sent me home with this:
Favorite Flower. And WOW. LOVE!!!
The interesting thing with moving to "the cottage" is that the current renter can't find anything nice to say about it (the bugs, the water, the tile, the appliances . . . the list goes on). But the renter before her can't find anything
bad
to say about it--she says it was the most wonderful place ever and she and her family absolutely
adored
it. I think it has everything to do with attitude and very little with the 29-year-old cottage in the woods. At least that's what I'm hoping.
Where Flowers Bloom . . .
Speaking of gardening and plants, we had a cookout at my parents, so I decided to take some snaps of Mum's flowers. She has butterfly gardens in the back and front yards, and I just love them. This is the time of year when everything is blooming and fabulous. No color editing on these because, really, God's artistic efforts are flawless.
Turtle Tale
Later this afternoon, the boys visiting and my baby sisters found a Gopher Tortoise. You can imagine the great excitement that ensued. That poor turtle.
No, we didn't hurt the turtle. It didn't even seem too upset.
Eager to escape, yes, but I don't think it was having a heart attack.
At least, I hope it wasn't.
Still how fun is this? And how CUTE is that tortoise?
Run little turtle! Run!
P.S. That little tail? Love. So awkwardly adorable
Can you find the turtle?
Another fun creature. Chris caught the shot of this skink and was pretty proud :]