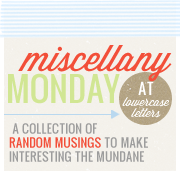 Do you remember the scene in the delightful "You've Got Mail" where Kathleen Kelly confessed to her email-penpal how badly she wishes she had the gift of zingers? (If you don't remember, hit up Netflix, Red Box, or your local library and watch the movie. Now. It's fabulous). Oh, Kathleen, I feel ya, hun.
When someone says something incredible rude, negative, or mocking, I come up with great zingers. No, really peeps, I feel so horribly witty when they flit across my mind. The problem? I usually come up with them like the next day. Darn. And then they seem either like chunks of gold or super lame even then. I'm just not a zinger.
Example:
Chris and I have been searching for either a small guest bed or, mostly, a sleeper couch/futon. We searched and we searched but could find one that we neither liked nor could afford, so we gave up and decided that any overnight guest would be forced onto the couch or a hotel room. Not at all what I wanted but, what could I do? If the bank account says no, I've kinda got to agree. As it turned out, God provided us with something as silly as a futon: a friend of Chris's gave us one for free because he was moving and had no more need of it. SCORE!!! I was so excited and felt so blessed!
The futon and I had our formal introduction last night in the presence of a friend.
I squealed and immediately hopped/plopped myself into it, bubbling over with joy. "Christopher!" I called to the hubs, gaming in the next room, "I approve!"
"Hurraaaay!"
My friend walked by, perched across the room, and said, "No one's ever going to want to stay with you guys if they have to sleep on
that.
Futon's are sooooo uncomfortable. I slept on one once. Hated it. And besides, no one would want to stay in Chris's gameroom and put up with his gaming all night. Ugh."
I don't know if this should have been offensive, but it was after suffering over a month of negativity whenever anything involving our future move was mentioned, and over three years of criticizing my husband, and this recent decision for us to get a dog (you have NO idea). It was time for a zinger. Just to prove I have a bloody backbone. Guess what I did?
a. said nothing
b. smacked her
c. stammered my affections for futons and that really, he wouldn't game all night and "I can find ways to distract Chris."
d. Laughed, "Oh you're so funny!"
e. "Well you won't ever have to sleep on it. I only have pleasant people visit."
f. Complained about how much I, too, hate futons, and, she's right, my husband's hobbies are annoying.
If you guessed E . . . that's what I wish had happened. Of course, I didn't think about that one up until my lunch break this afternoon. No it's not particularly smashing, but . . . it's better than what I really did.
So, I pretty much went with C and tried to ignore it. No, some futon's aren't always the most comfy (I thought our wasn't half bad), but it was God's gift and no one should be bashing it in that context. And maybe she's right: maybe none of my out of town friends, in need of a bed for the a night, would want to stay with us. Maybe everyone hates futons and the thought of futons. I guess I'm just been really sensitive and defensive recently when she says things like that. Blech.

How do you deal with zingers?