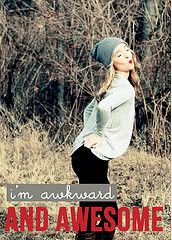 Going to Wal-Mart at 1:30 AM for the first time in years . . . and realizing you're the only person NOT in college or high with the munchies. Ours were just sincere munchies, no drugs involved. What a strange concept.

Finishing auditing every full-time employee form, transferring the spreadsheet, singing "hallelujah" because you're finished . . . only to discover that now you have to scan and label EVERY SINGLE INDIVIDUAL MINUSCULE FORM.
Brain, prepare to meet your doom.
Bored to death is a strong possibility, here.

Blanking out at a drive-thru because your brain is so wasted from said auditing. Seriously, staring at names and dates has sucked my intelligence dry.

Finding a picture of a company board member who looks shockingly like a young Alec Baldwin

Emotional Food-Poisoning . . . see previous post ;]

Sitting silently in the car with two people arguing, one of them crying . . . over shopping.
What do you say to that? Try to just make yourself as invisible as possible? Take a side? Redirect the blame, "Well, I think it's the furniture's fault. Oh yeah. That chair is way too full of itself! Charging that much? Ridiculous. The floral pattern has gone to its head! . . . er . . . legs?"

Helping a friend move and discovering that she owns more clothing than I thought a non-celebrity could possibly possess. Golly. I have a bruise from all the hangers

A critique of your paint colors choices for a home exterior that goes something like "Ew! That doesn't go at all! It clashes with the grass!"
. . . wait . . . that's really criteria? Really? You're not joking? The grass?

Finding typos in a

website article you wrote

. . . and discovering that the editor didn't catch it . . . and now it's stuck there on the world wide web for all to see. Boo.

And a semi-negative comment on said article from a reader. >.<
Feeling like an eighteen-year-old again because college was the last time I went to Wal-Mart at 1:30 in the morning . . . to pick up the midnight DVD release of Harry Potter and the Goblet of Fire. Score.
Speaking of which . . . Deathly Hallows II anyone??? So excited! Disappointed that I can't go to the midnight showing, though. What a cool premiere! One of these days I'm determined to go to one of these cultural movie premieres--you know, the ones where people go in costume. How fun!

Even though the work is dull, working with really nice people . . . who want to take me out to lunch on my last day :] And that pay check that helps pay the bills and save up for our move.

Finding out my last day of summer work is on a Wednesday and not a Friday, giving me a FOUR DAY WEEKEND before teacher orientations start.

After said emotional vomit, seeing the benefits of honesty, like a husband who cleans the dishes and brings home boxes for the move.
Then finding support and encouragement in family and blog-world friends :]

Showing a couple of other family members my soon-to-be exterior color, and listening to their support and approval of the color.
And laughing at the grass comment.
Again and again.

An upcoming weekend with my brother, who is awesome :]

Fun meetings with last year's middle school teacher about my upcoming year. Plus she's just plain cool.

Having not one but two articles featured on a new website.
And having the editor defend the article, ever so slightly.
I wish I could think of things that are more amusing . . . but like I said auditing. It kills.
Seriously.
:]