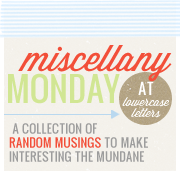 As previously stated (and the fact that Monday in a cubicle is less than thrilling), I am going to overload you with pictures from the
Monterey Bay Aquarium
. Was this my favorite part of the trip? I'm pretty darn sure. I have a weakness for all things sea-related, and a beautiful, interactive aquarium is somewhere I could lose myself for days. I feel like I'm going to have to start taking more pictures more often because these past few (and probably next few) posts have been picture heavy . . . and I'm so not someone who just takes pics of daily existence. Look! A pile of dirty dishes! A cat has once again taken over a pile of laundry! Such thrilling subjects! But we'll see what happens. Anywho . . . here are some of the not-already-featured highlights of the aquarium :] If you want to see others, just click the
"California" label
, and they should pop up. Enjoy!
The outdoor section of the aquarium, which included a waterfall/tidepool connected to the wave tunnel indoors, and, of course, a stunning view of the bay (with the summer fo rolling in, LOVED that fog)
I'm a sucker for pictures of staircases . . . I don't know why . . . I think it's the bold lines . . .
The thirty-foot-tall Kelp Forest Aquarium filled with fish of all shapes and sizes and small sharks


These rescued birds were in an open display--there was no glass seperating the aquarium visitors from the birds, but they kept their distance. I love shore birds.
Some pidgeons at the outdoor tide pool . . .
Upside-down jellies. The 70s-themed Jelly Fish exhibit was our favorite. I LOVE jellies.
Abby the Otter takes a nap in a bowl of ice . . . Cute enough to induce squeals of joy? Maybe definitely.